Where can I buy eyelash extensions?
Nowadays, the eyelash market is getting bigger and bigger, various styles of eyelashes emerge in endlessly, and lash extensions are becoming more and more popular. If you want to order eyelash extensions, don't miss the lash extension vendors Missangel Lashes, we have a wide range of eyelash extensions, such as various cluster eyelashes, fan eyelashes, DIY eyelash extensions, flat eyelash extensions, short eyelashes extensions, long rods Eyelash Serum, Classic Eyelash Serum, Easy Fan Eyelash Serum, YY Lash, VV Lash, WW Lash, Color Eyelash extensions, etc.
If you are a Lash Bar or Eyelash Shalon owner, don't miss out on Missangel Lashes, we offer high quality products at reasonable and competitive wholesale prices.
How to make an eyelash extension order?
If you want to place a perfect order, you should first count your sales data and know what characteristics of eyelashes you need, and then you should tell your eyelash processing factory all your information, this is what you should know before placing an order detail.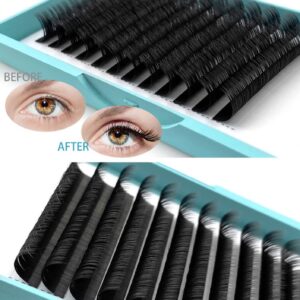 The length of eyelash extension
Common lengths are 6mm to 25mm, but the most popular are 7mm to 14mm.
All information should come from your local market, different markets vary in length. Everyone's choices are different.
Plus, you can also make mixed lengths in one tray if you order in bulk. This can meet the needs of most people, and will not waste our eyelashes, saving order costs.
Lash extension arc
Let me introduce the main lash extensions currently on the market, 30°J Curl 40°B Curl 50°C Curl 55°CC Curl 60°D Curl 65°DD Curl, but C Curl D Curl Eyelash Extension is the most popular in the market of. Others require a little less.
Material of eyelash extension
Our lash extensions are made of pure mink hair, they are soft, light weight, comfortable and very true to your eyelashes.
Also, they are natural black in vivid and glossy colors, so this material is the most popular in the market.
How many rows does a pallet have?
We can do any row in one pallet, for example 12 rows and 16 rows in one pallet.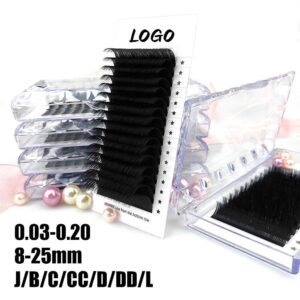 The more rows you order, the higher the price, but it's much cheaper if you order in bulk.
Five, the thickness of eyelashes
The most popular thicknesses are 0.03mm 0.05mm 0.07mm 0.10mm 0.12mm 0.15mm 0.20mm and 0.25mm.
You can choose any thickness you like, we can make exact order for you. Just tell us the size and model you need. If you make bulk custom eyelash extensions, you can also make mixed thickness orders.
Why Buy Eyelash Extensions From Missangel Lashes?
Ten main features that people love to choose Missangel Lash extension.
Natural softness
The material is of the best quality, very soft and comfortable.
Two, light weight
That's why eyelash extensions don't feel heavy and tiring.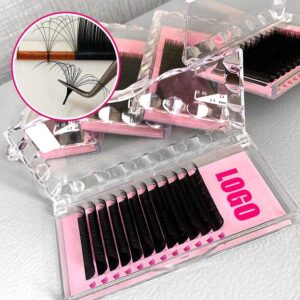 Natural black
The material is natural black and vivid, similar to a person's real eyelashes.
Handmade
All furs are handcrafted piece by piece, so it takes a lot of time and effort to complete a tray of eyelash extensions.
Stable Curl
The curl remains stable for over a year, and the thickness is standard.
Paste the back
It is very easy to remove from the tray, which will save the designer time to finish the work.
7、 no residue
There is no residue on the lash strip. All furs are high quality and not easy to break.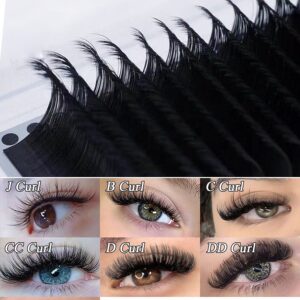 Reasonable wholesale mink lashes price
We are wholesale eyelash extension factory and can provide you with competitive wholesale price. The more the cheaper. We have a strict QC team to guarantee the quality of your eyelash extensions. So order with confidence.
Customized service
We not only simply sell eyelashes, but also provide customized services. We can customize the length and thickness according to your needs. If you want to customize the logo on the box, we can also do it.
The best service
We provide customers with 7*24 service
How much does eyelash growth serum cost?
It depends on your quantity and products, usually from $2.5 to $4 per pallet, the higher the quantity the cheaper the price